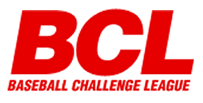 BC LEAGUE (Baseball Challenge League)
BC LEAGUE is one of the biggest independent professional baseball leagues in the north central region of Japan, consists of 6 local organizations and their teams.
Following SHIKOKU ISLAND LEAGUE, (now: SHIKOKU ISLAND LEAGIE PLUS), BC LEAGUE was founded in 2006 as a second independent professional baseball League in Japan, and begun to play in the 2007 season.

◇Start Year: 2007
◇League Operating Company: Japan Baseball Marketing co., Ltd
◇President & CEO: Murayama Tetsuji
◇Participating Teams: 6
| Team Name | Join | Operating Company | Region (Home Area) |
| --- | --- | --- | --- |
| Niigata Albirex Baseball Club | 2007 | Niigata Albirex Baseball Club Inc. | Niigata Prefecture |
| Shinano Grandserows | 2007 | Nagano Kenmin Kyudan co.,Ltd | Nagano Prefecture |
| Ishikawa Million Stars | 2007 | Ishikawa Million Stars co., Ltd | Ishikawa Prefecture |
| Toyama Thunderbirds | 2007 | Thunderbirds Baseball Club co., Ltd | Toyama Prefecture |
| Gunma Diamond Pegasus | 2008 | Gunma Sports Management Inc. | Gunma Prefecture |
| Fukui Miracle Elephants | 2008 | Fukui Kenmin Kyudan co., Ltd | Fukui Prefecture |
6 teams in 6 prefectures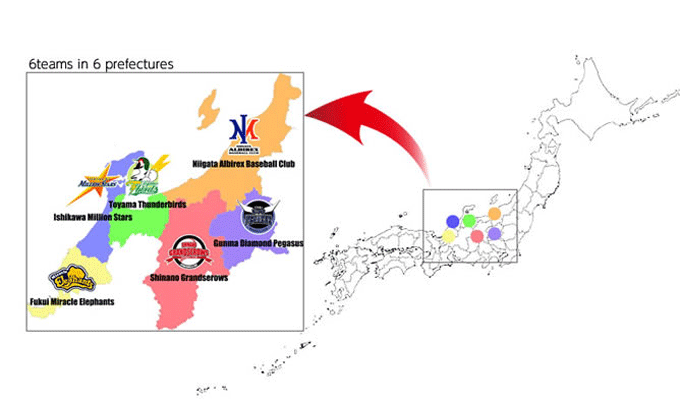 Origin of the League Name
 BASEBALL CHALLENGE LEAGUE
Baseball + Challenge = "We keep challenging with baseball games"
CHALLENGE by LEAGUE
Through Baseball project, BCL keeps challenging "Regional Vitalization".
Through Baseball project, BCL keeps challenging "Regional Contribution".
BCL keeps challenging valuable "Nurture" and "Coaching" for young players who dream of becoming NPB players or major leaguers.
CHALLENGE by PLAYERS
Players must challenge to be NPB players or major leaguers with their desperate efforts.
CHALLENGE by COACHES
Coaches must challenge to improve their coaching skill and coach young players with great effort to make their dreams come true together.
Our wishes "Everyone belonging to BCL keeps challenging with full force through baseball project—"are contained
in the league name "Baseball Challenge"
◇Operation (Season of 2013)
[Divisions Structure]
6 teams are divided into two divisions.
HOKURIKU Div. / Toyama Thunderbirds, Ishikawa Million Stars, Fukui Miracle Elephants
JOSHINETSU Div. / Gunma Diamond Pegasus, Niigata Albirex BC, Shinano Grandserows
[Schedule Rules]
The BCL plays 72 game season (37 Home 35 Away)
Regular season begins on April and ends on September
Split season format is used. 72 games will be divided into two parts. (1st half/36 games, 2nd half/36 games)
[Playoff Format]
Four teams (two teams in each Div.) qualify for playoffs.
Division Championship
Winners of first and second half of each division meet in the Division Championship series with 3 games.
A team wins 2 games first become Division Champion.
In case the same team wins both first and second half, runner-up will be determined by winning percentage through the season. However, runner-up must win all of 3 games to become Division champion.
League Championship
Division Champions meet in the league Championship series with 5 games. A team, win 3 games first become BCL Champion.
[Roster Rules]
23 active player rosters maximum.
Each team is allowed 4 NPB and non-Japanese players on a game.
There is no minimum or maximum salary.
◇BCL Alumni NPB draft nomination results
2007
Kensuke UCHIMURA (Ishikawa Million Stars) -RAKUTEN GOLDEN EAGLES
2008
Yuya NOHARA(Toyama Thunderbirds) – HANSHIN TIGERS
Akira SUZUE(Shinano Grandserows) -CHIBA LOTTE MARINS
Yohei YANAGAWA(Fukui Miracle Elephants) -SOFTBANK HAWKS
2009
Yuji MAEDA(Fukui Miracle Elephants) -ORIX BUFFALOES
Shuhei TAKADA(Shinano Grandserows) -HANSHIN TIGERS
Masumi HOSHINO(Shinano Grandserows)- YOMIURI GIANTS
2010
Takahiro KATO(Toyama Thunderbirds) -RAKUTEN GOLDEN EAGLES
Francisco CARABALLO(Gunma Diamond Pegasus)-ORIX BUFFAROES
Robert ZARATE(Gunma Diamond Pegasus)- HANSHIN TIGERS
2011
Seiya Hirogami(Gunma Diamond Pegasus) -HANSHIN TIGERS
Takayuki SHIMIZU(Gunma Diamond Pegasus)- SOFTBANK HAWKS
Takashi AMEMIYA(Niigata Albirex)- YOMIURI GIANTS
2012
Shota MORIMOTO(Fukui Miracle Elephants) -ORIX BUFFAROES
Takefumi YAGHI(Gunma Diamond Pegasus)- SOFTBANK HAWKS
Daiki HARA(Shinano Grandserows) -ORIX BUFFAROES
Hiroki NISHIKAWA(Fukui Miracle Elephants) -ORIX BUFFAROES
2013
Kento SHIBATA(Shinano Grandserows) -ORIX BUFFAROES
 2013 Season Playoffs Result